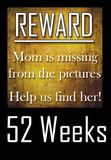 Frilly purple princess dress?
Check!
Matching purple tights and fuzzy purple purse?
Check!
Happy smiles for the camera before we left?
Check!
Princess Lillian sashed and crowned?
Happy smiles for the camera before the event began?

Party over before it barely began?
um, yeah - a big 'ol Check-a-rooni on that one!
******************52 Weeks********************

52 Weeks is a year long challenge for YOU to be in a picture once a week for 52 weeks. We are always the ones behind the camera, this is YOUR chance to get out in front and be in the pictures with our family. We are glad you are joining this challenge. More importantly your family will really enjoy having you in the picture. Thanks for playing along! Oh, you can just jump in now with 1 of 52, you're not getting off that easy! Now go take a picture!

**************************************