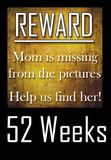 What a fun week we've had! On the 4th of July we watched fireworks with great friends. The fireworks, however, were not so great... sign of the times???
Here is a great one the kids snapped of my and Patrick before the show began. Pretty darn sweet, I know, I know.
Carin at
Forever in Blue Jeans
has a great picture of herself with her Mom, so head on over and check it out. While you are there visit all of the other Mom's who are getting in front of their cameras, they would love a visit!
********************52 Weeks********************
52 Weeks is a year long challenge for YOU to be in a picture once a week for 52 weeks. We are always the ones behind the camera, this is YOUR chance to get out in front and be in the pictures with our family. We are glad you are joining this challenge. More importantly your family will really enjoy having you in the picture. Thanks for playing along! Oh, you can just jump in now with 1 of 52, you're not getting off that easy! Now go take a picture!
**************************************