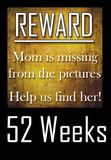 Feeling so lucky! This week I won a prize package from
ABC and 123
courtesy of
Carolina Pad
company. The big 'ol box arrived on my door step via Fed Ex this morning and it was chocked full of awesome stuff. Sasquatch was the theme for the multiple pads of paper, folders and binder I received. I was feelin' like a kid in a candy store and you can bet it is mine-all-mine - no sharing in this house today.
Go visit Carin at
Forever in Blue Jeans
, she deserves the love for getting the word out that Mom needs to be seen and not just heard.
******************52 Weeks********************
52 Weeks is a year long challenge for YOU to be in a picture once a week for 52 weeks. We are always the ones behind the camera, this is YOUR chance to get out in front and be in the pictures with our family. We are glad you are joining this challenge. More importantly your family will really enjoy having you in the picture. Thanks for playing along! Oh, you can just jump in now with 1 of 52, you're not getting off that easy! Now go take a picture!
**************************************